Basketball can become your life-time partner, CBA tells kids
2020-06-02 03:34:35 GMT
2020-06-02 11:34:35(Beijing Time)
Xinhua English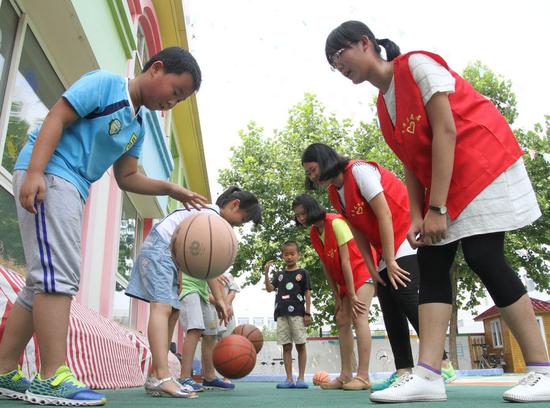 Kids compete in a basketball bouncing match at a community in Boxing County of Binzhou, east China's Shandong Province, Aug. 5, 2016. (Xinhua/Chen Bin)
The Chinese Basketball Association league issued an open letter to kids on Children's Day, which encourages them to live a better life through playing basketball.
"Every day can be Children's day as long as we have basketball. We really hope basketball can become your life-time partner," read the letter.
Kids were encouraged to stay at home during the COVID-19 pandemic, and their regular basketball activities were also impacted.
In order to make basketball available, the CBA released official basketball training courses which included video lessons from local stars such as Yao Ming, Guo Ailun and Wang Shaojie.
"We wish you a happy holiday and hope that every one of you can grow up healthy, safe and happy," said the letter.